How to Use Greet‑o‑matic®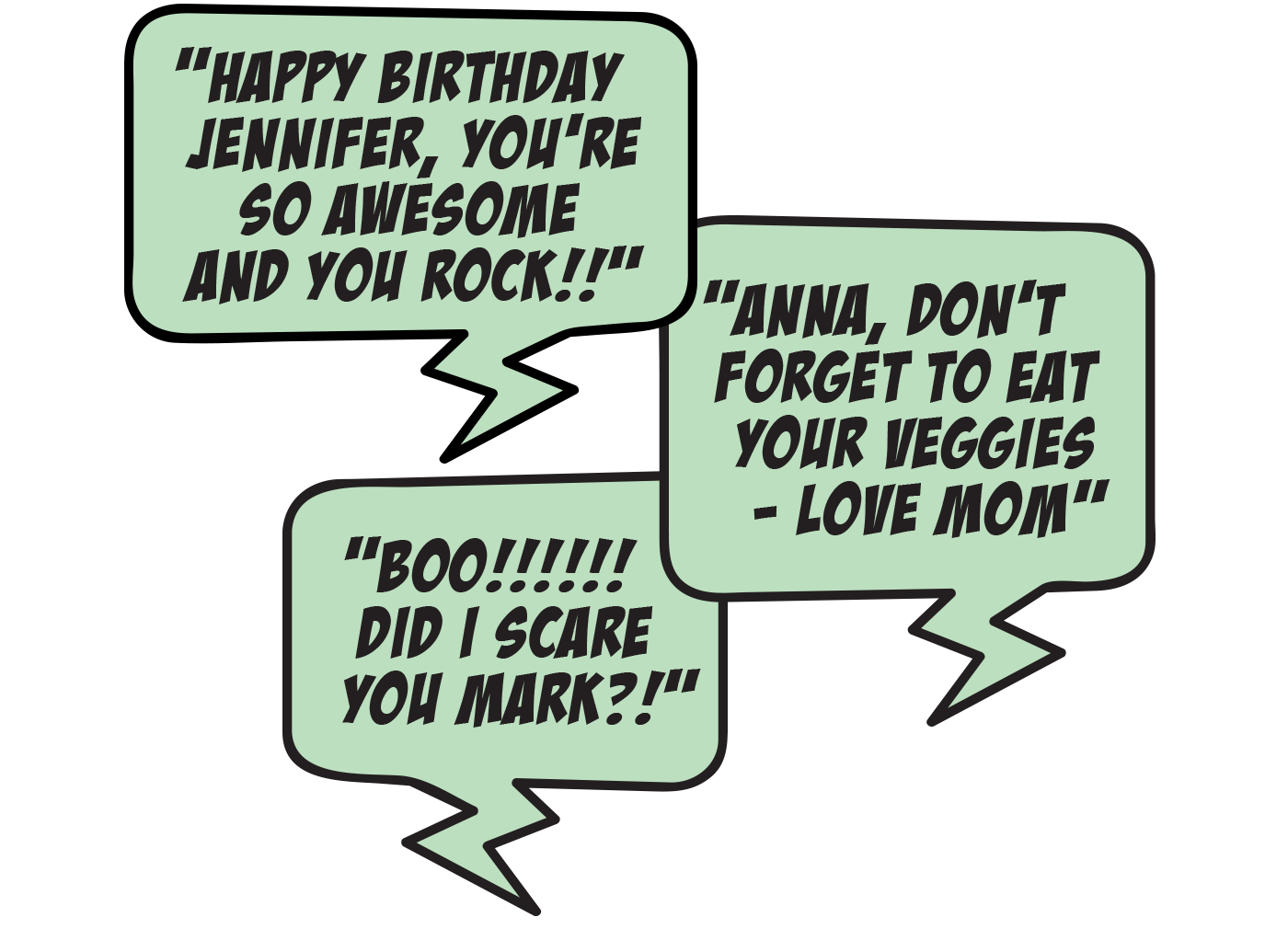 Where can I use it?
Wrap with birthday & Christmas gifts for a special surprise
Place it inside lunch boxes with messages from mom or dad
Warnings in the refrigerator to not drink all the chocolate milk or eat all the pizza
In the bathroom to serve as reminders to do things, like to brush your teeth
Inside lockers to set reminders for yourself
In luggage to surprise loved ones when the travel
Inside Valentine's day boxes for your romantic interests
Inside desk drawers as pranks
and tons of other places
Instructions for Use
Set the switch on the front of the Greet-o-matic® to ON.
Record your message by pressing and holding the Record Button on the back.
Leave Greet-o-matic® on, wrap, cover or hide in a dark place.
When light hits the sensor on the other side, your message will play.
Greet-o-matic® is Reuseable: Re-record and use again right away or set switch on front to OFF to save batteries until next use.

Tips for Wrapping Greet‑o‑matic® with Gifts
Greet-o-matic® works better when fully insulated from light. When wrapping it using thin paper, follow these steps:
Follow the instructions on the back of the Greet‑o‑matic® to record your personalized message.
Leave the Greet-o-matic® ON and tape it to your gift. Cut a small piece of wrapping paper and fold it in half a couple of times so that the folded paper is now 3-4 layers.
Place the paper on top of the Greet‑o‑matic®, fully covering the front. This will prevent light from bleeding through the outside layer of wrapping paper helping to ensure your message will play automatically when unwrapped. Do not tape this paper down – it should fall off when the gift is opened.
Now wrap the gift like you normally would.
General Tips
Remember to leave Greet‑o‑matic® turned ON when you wrap it with a present or hide it in a dark place. Your message will not play automatically unless it is turned ON.
If you tape the Greet-o-matic® in place, make sure the sensor is positioned upward/outward where light can make contact when the item is opened.
Use tape on the flat edges of Greet‑o‑matic® to hold it in place. Since it's made of plastic, the tape can easily be removed without damaging it.
Some really thin wrapping papers will not work with Greet‑o‑matic®. Make sure to test the paper you are using by simply covering up the Greet‑o‑matic® with it and removing it. If it doesn't play when uncovered, put a thick piece of paper directly over the Greet‑o‑matic®, and then wrap.
Turn Greet-o-matic® off when not in use or storing for long periods of time. This will conserve the batteries and help ensure that you will be able to keep using Greet‑o‑matic® over and over.
Wrap gifts with Greet-o-matic® as close to the giving time as possible. This way, it will be on the shortest amount of time possible and help conserve the batteries, allowing you to reuse your Greet‑o‑matic® many times.